Permissions:

Love Robin MIGHT ALLOW use of select fanon concepts on this page; CONTACT them to discuss requirements and details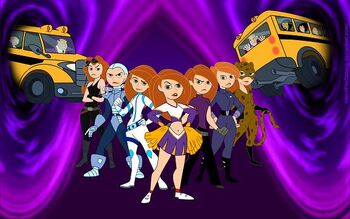 Every Kim Possible is a series by Love Robin.
Series OverviewEdit
The Supreme One has conquered nearly one thousand alternate universes and seeks to kill every Kim possible as the only impediment between her and attaining Godhood.
The plans of the First String Cheer Squad to attend a world cheerleading competition gets derailed when a surprising individual literally pops out of thin air seeking Kim's help against a ruthless extra-dimensional worlds-conquering tyrant. A kill-squad with disturbingly familiar faces soon follows, forcing Kim and friends out of this world and into a war to free a thousand others.
Installments
Edit
There are Main and Sidequel storylines.
Sidequels
Edit
Allusions, Homages, and Cameos
Edit
References
Edit
---
Ad blocker interference detected!
Wikia is a free-to-use site that makes money from advertising. We have a modified experience for viewers using ad blockers

Wikia is not accessible if you've made further modifications. Remove the custom ad blocker rule(s) and the page will load as expected.