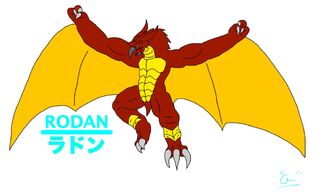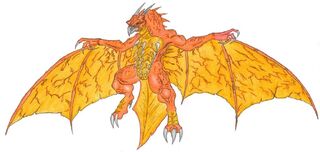 Rodan (KP Version) Rodan (KP Version) is Godzilla's best allies and friend and an assassin of the Gojiran Dynasty Empire.
He is a fierce and dangerous fighter, not to only mention he is an 108 foot pterodactyl with a taste for adventure and action. Sneaking up behind enemies while in human form is his speciality, but not to Kim once because he almost scared her while hanging upside down and was warned by Godzilla to never do it again.
Canon article: Rodan (KP Version)
Rodan (KP Version)
By Creative
Edit
Giovanni Frayne "John" Ricci
By Story or SerieEdit
KiM POSSIBLE: Return Of Godzilla
Gojiran Dynasty Saga
By Universe
Edit
References
Edit
---
Ad blocker interference detected!
Wikia is a free-to-use site that makes money from advertising. We have a modified experience for viewers using ad blockers

Wikia is not accessible if you've made further modifications. Remove the custom ad blocker rule(s) and the page will load as expected.